Here is a brief article showcasing some of the results achieved from laser tattoo removal at Sacred Laser in Auckland.
Sometimes full tattoo removal is definitely the best option but typically we find that people who have tattoos generally don't want to not have tattoos at all – they just want the opportunity to wear the tattoos that they really want. As we mature, our tastes may change and often the tattoo we received just didn't turn out the way we wanted it to.
Something you wanted to wear with pride for the rest of your days you end up hiding, or maybe as we become more tattooed we start thinking about the overall concept differently, and with a more educated eye. Perhaps that small arm piece is now right in the way of a larger concept.
To illustrate the process, here are some photos of Mark Tumaru, a former tattooer at Sacred Tattoo, before and after just two laser sessions prior to the start of his cover up process by Auckland tattoo artist Dean Sacred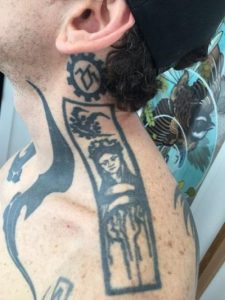 As you can see in the first photo the black blade like shapes are part of a graphic bat design on his chest coming up onto his neck, this is actually a partial cover up already with multiple layers of ink.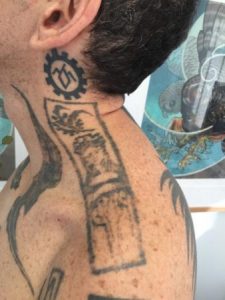 These next photos you can see the excellent results from the Cynosure Medlite Laser breaking up the black and dispersing the ink in just TWO sessions.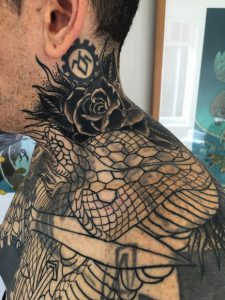 These photos are the start of the cover up process, one side of the neck is finished and this other side is just in the outline process so you can see how dark the new black is next to the old. There was a third session of laser before this but we missed the photo opportunity when Mark jumped into a space that Dean had in his schedule.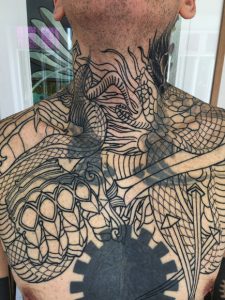 As you can see there would be no possible way to get this new work with the old black tattoo in the way but in only 3 sessions we have lightened the ink enough for Dean Sacred to do a complete cover up without being hindered by the heavy tattoo there before.
If you didn't believe in tattoo second chances we hope we have changed your mind, and have you thinking about new possibilities.